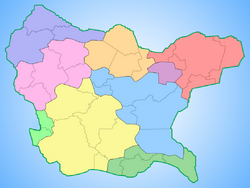 This article offers an oversight of the administrative divisions of the Navonian republic. When the Republic of Navonia was founded, it was divided into nine regions and thirty-six provinces. This was a concession of the progressives to the separatist and regionalist forces in order to unite in a front against the conservatives. The loyalist conservatives wanted to maintain the unitary structure of the Navonian Empire. The final administrative division was based on territorial units that existed before the empire and is thus closely related to the Navonian history. This division in regions and provinces is still used today.
The regions have their own parliaments and can create legislation concerning culture and education. The provinces are in charge of infrastructural works and match with the voting districts. The entire system is mostly administrative, meaning that the different regions and provinces have no real sovereignty. The provinces have to answer to the regions and the regions are in turn subordinate to the national apparatus.
List of regions
Edit
The nine regions of the Navonian republic are:
List of provinces by region
Edit
Ad blocker interference detected!
Wikia is a free-to-use site that makes money from advertising. We have a modified experience for viewers using ad blockers

Wikia is not accessible if you've made further modifications. Remove the custom ad blocker rule(s) and the page will load as expected.