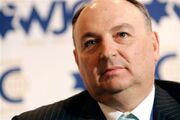 Borgo Martelli was the second ever Prime Minister of Noel elected in the 1994 Noel Federal Elections under the Centre Democrats of Noel/Liberal Coalition of Noel and was founder of both. He served until 2000 and made great achivements like passing Labor laws, Universal Health care and highering the minimum wage. He was born in 1950 in Lower Viola and is also Sammarinese.
Ad blocker interference detected!
Wikia is a free-to-use site that makes money from advertising. We have a modified experience for viewers using ad blockers

Wikia is not accessible if you've made further modifications. Remove the custom ad blocker rule(s) and the page will load as expected.