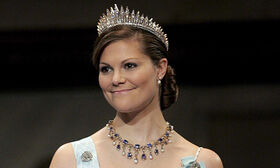 Princess Stefania of Viola
(born 2 July 1970) is the heir apparent to the throne of
Viola
. She was born at the Royal Palace in
La Fiora
,
Metropolitan Brancusi
to
Isabella II of Viola
and
Prince Johan of Vistania
. She married an English Duke in 1996 and have one daughter,
Princess Carlotta of Viola
and a son,
Prince Massimo of Viola
.
This article is a stub: a short article with a useful amount of information, but that should definitely be expanded.
You can help the New Continent community by expanding it.