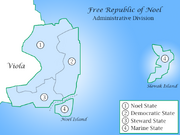 Marine State
is a state comprised of the two islands of
Noel Island
and
Slovak Island
. The two islands were allowed to join
Noel
in 1983 when congress passed a law allowing them to join. The two islands only combine to have about 100,000 people. In 2009
Noel Parliament
decided that combining the two islands to be a state would be the best and created the state.
R.R. Alexander
was elected the first governor of Marine and he is leader of the
Christian Coalition of Noel
.
State Council
Edit
Ad blocker interference detected!
Wikia is a free-to-use site that makes money from advertising. We have a modified experience for viewers using ad blockers

Wikia is not accessible if you've made further modifications. Remove the custom ad blocker rule(s) and the page will load as expected.