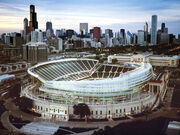 Nova Stadium
is a large stadium located in
Democratic State
,
Noel
. The stadium was built in 2003 for sporting and conference meetings. The stadium has a fully retractable roof with 40,000 seats. The stadium is primarily used for soccer and basketball when in "sports mode" and usually sells out every time. The stadium is also holding the first ever
Rodienian Leftest Conference
which will include many prominent leaders from around
Rodenia
. The Stadium will also have upcoming music performences too.
Upcoming Performances and games
Edit
Soccer: AC Milan vs. Noel Preimer League All-Stars (SOLD OUT), April 20, 2011
Jessie J, B.o.B, and Katy Perry, April 27-28, 2011
Ad blocker interference detected!
Wikia is a free-to-use site that makes money from advertising. We have a modified experience for viewers using ad blockers

Wikia is not accessible if you've made further modifications. Remove the custom ad blocker rule(s) and the page will load as expected.