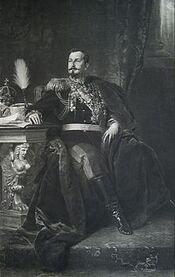 Maximilian Alexander, Prince of Brunant
(1829-1915) was the head of Royal
House of Stennori-Van Draak
, the Royal Family of
Viola
.
Prince Max was born in Brunant to King Cristian I and Queen Henrietta. In 1855, he was presented to Princess Isabella (the future Isabella I of Viola). They were married the following year. In 1877, she became the Queen of Viola, and in 1878 he was made co-ruler. They had eleven children:
1. Prince Maximilian Alexander (1856-1860)
2. Charles III (1858-1939)
3. Princess Giovanna (1860-1917)
4. Princess Philippa (1862-1923)
5. Princess Isabella (1864-1957)
6. Princess Carolina (1865-1910)
7. Princess Amalia (1867-1871)
8. Princess Louisa (1869-1913)
9. Princess Olivia (1869-1944)
10. Princess Martha (1872-1975)
11. Prince Vittorio (1874-1933)
Prince Max died in 1915 in Brancusi.
Ad blocker interference detected!
Wikia is a free-to-use site that makes money from advertising. We have a modified experience for viewers using ad blockers

Wikia is not accessible if you've made further modifications. Remove the custom ad blocker rule(s) and the page will load as expected.