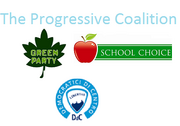 The
Progressive Coalition of Noel
is a ruling coalition ever since the
2002 Noel Federal Elections
. It was first joined together by the
Green Party of Noel
's leader
Michael Villanova
and
School Choice Party of Noel
's, and former
Vice Primer of Noel
,
William McKean
. The party has 30 seats in there first elections and in 2006 were joined by the international party the Noelian
Integrationist League
which is precived as liberal in the country of Noel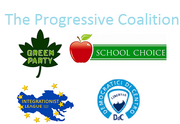 . In 2008 they were joined by the
Centre Democrats of Noel
, which were intrsumental in the creation of states and a second chamber called the
Higher Chamber of Noel
. which has since gave them a comanding lead in parliament and the chamber. Afterwards the IL party of Noel left and joined the
Liberal Party of Noel
to make the
Noel Coalition
.
Ad blocker interference detected!
Wikia is a free-to-use site that makes money from advertising. We have a modified experience for viewers using ad blockers

Wikia is not accessible if you've made further modifications. Remove the custom ad blocker rule(s) and the page will load as expected.