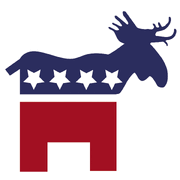 The
Progressive Party of New Yonkers and Philadelphia
or
Bull Moose Party of NYaP
is one of the most successful political parties in
New Yonkers and Philadelphia
and was helped founded by the first president and founder of the country
George Jefferson
. The party has has more bills and motions passed than any other party and has traditional progressive views including it's biggest achivement to date which has apartently passing the Corporation Act of 2000 which retrsicted companies immensley and created a progressive tax system.
Ad blocker interference detected!
Wikia is a free-to-use site that makes money from advertising. We have a modified experience for viewers using ad blockers

Wikia is not accessible if you've made further modifications. Remove the custom ad blocker rule(s) and the page will load as expected.