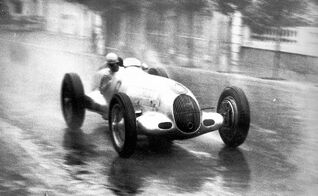 Umberto Rossi (born 1931) is a famous Violan racecar driver.
Rossi was born in the Principality of Santa Maria. In 1954, he became a mechanic for a racecar team. In 1956, their driver was out and Rossi was put in as a replacement. Seeing how good he was, the team made him a permanent driver. Rossi competer in the Supervolta di Rodenia from 1957-1966, winning seven times.
Ad blocker interference detected!
Wikia is a free-to-use site that makes money from advertising. We have a modified experience for viewers using ad blockers

Wikia is not accessible if you've made further modifications. Remove the custom ad blocker rule(s) and the page will load as expected.