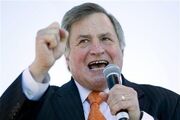 William McKean was the Vice Primer of Noel from 1998 to 2002. He was founder of the School Choice Party of Noel and was born in Gaurd City, Viola were he recived little to no eductaion and learned most things when he came to Noel in 1983. William and his party is credited for alot of important bills for education and teacher's unions.
See also
Edit
Ad blocker interference detected!
Wikia is a free-to-use site that makes money from advertising. We have a modified experience for viewers using ad blockers

Wikia is not accessible if you've made further modifications. Remove the custom ad blocker rule(s) and the page will load as expected.